Before starting the project, I went through a period of turbulence. I graduated, left the familiar environment, and tried to change my creation. I can never face myself, and I always question my current decision. If this symptom of never being able to feel settle has not been named, let me call it self-cognitive disability for now. I am not unable to empathize and establish systematic interpersonal relationships. On the contrary, it is my empathy that lead me to madness, and because of my self-examination and aversion to romance, I fall into a state of mania.
Therefore, for a long time, I forced myself to reason, and pursue things, behaviors and other irrefutable facts to speak. I was obsessed with knowledge and unexamined truth. I use the behavior of consumption to create, and the work itself is mostly used up and thrown away once finished. Using this process, I can avoid feelings and explain events and facts.
I always use words to create. I want to be different from the mantra. I think that the combination of language and objects, time and space must be relevant and close, and the interaction between the audience, the carrier, and the concept can be completely communicated. Unlike memes, my image is an indirect expression of the carrier; nor is it a mere installation. The existence of an installation itself is an event.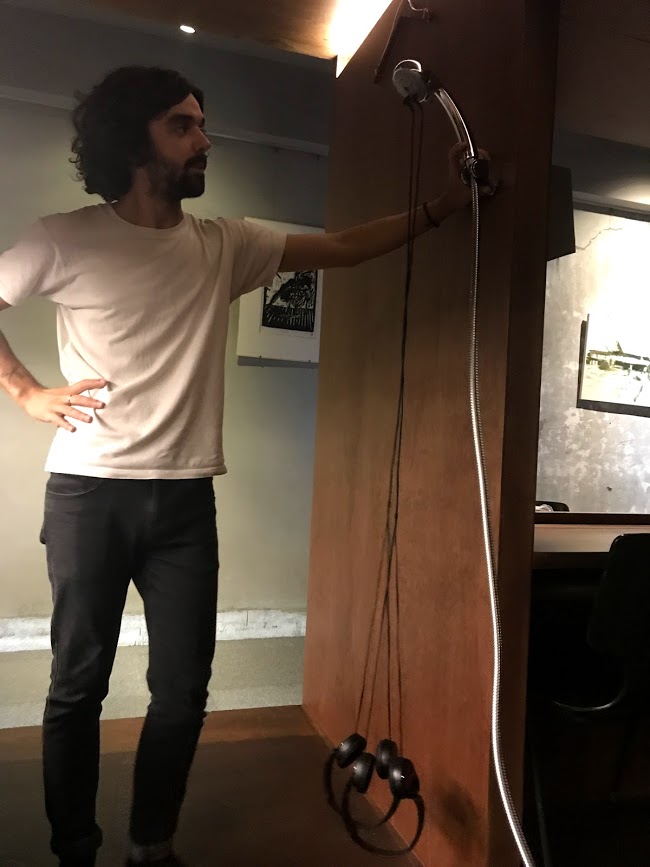 // Gaultier helping me install the Co-shower plan //
I feel that my creative model is rigid. Although I used the new materials (candles) to write a creative plan , the idea is still cliche. I was horrified by the desire to change, so I had to compare the new field by simultaneously extending my old context.
In the first work "Co-shower", I tried to use non-expendable materials to connect the sound of bathing water and the type of headphone cable in an attempt to keep the privacy through sound and streamlines. In a way, private behaviors can be shared with others. This is the first time I installed a device in Taiwan. Ting-Ting, CinCin, Gaultier, and I-Chen gave me many suggestions and help. This is a experimental work that helps me clarify: for me, metaphor cannot be the subject of an event, even if it triggers actions.
I experienced a period of interpersonal confusion in October. I felt the need for restraint behavior. I didn't want to drink and speak freely, and to be feel free in the crowd. Drinking and speaking were actions through my throat. My tattoo sticker series used the demanding text on my corresponding body part, and reached a reasonable.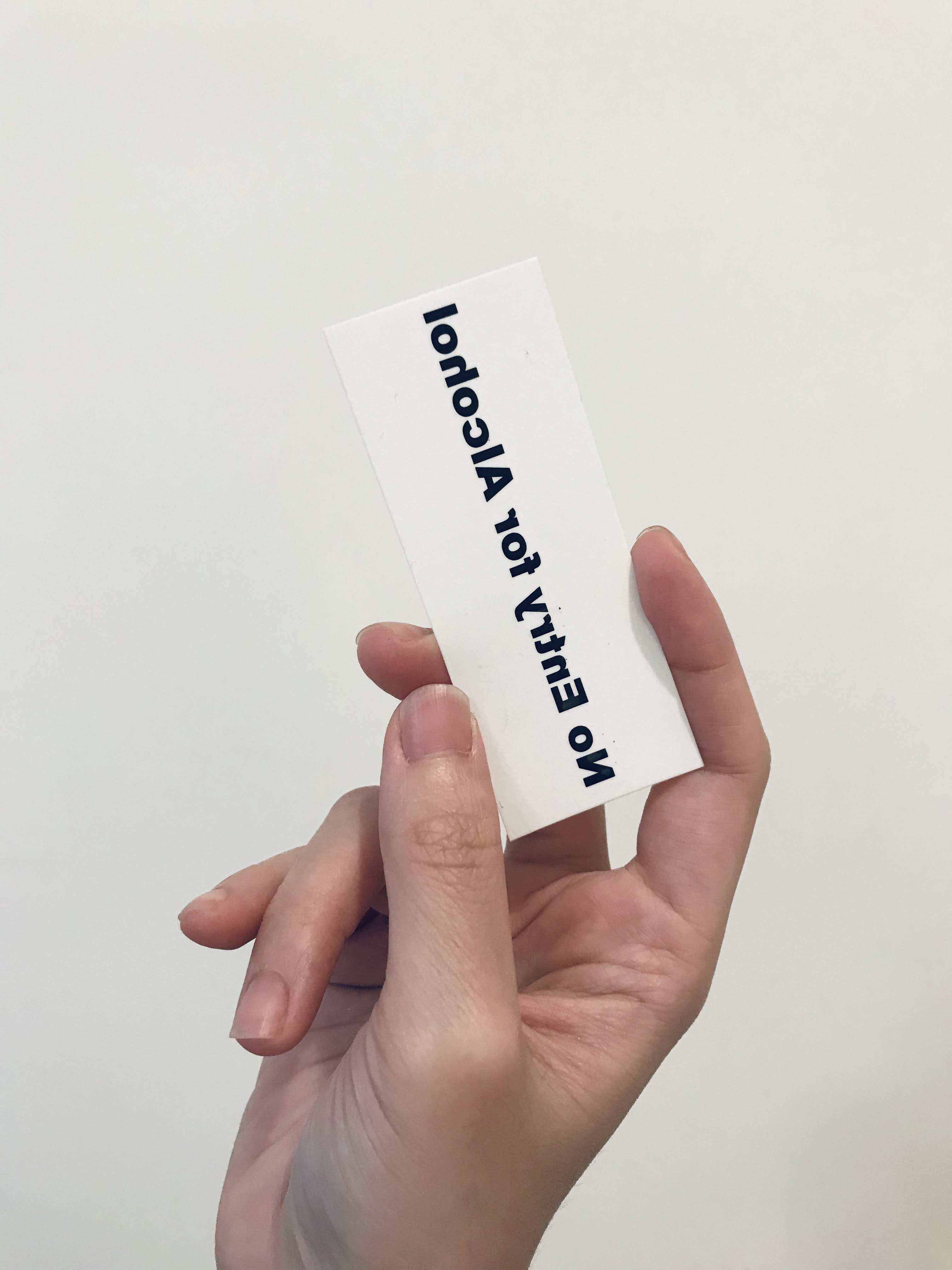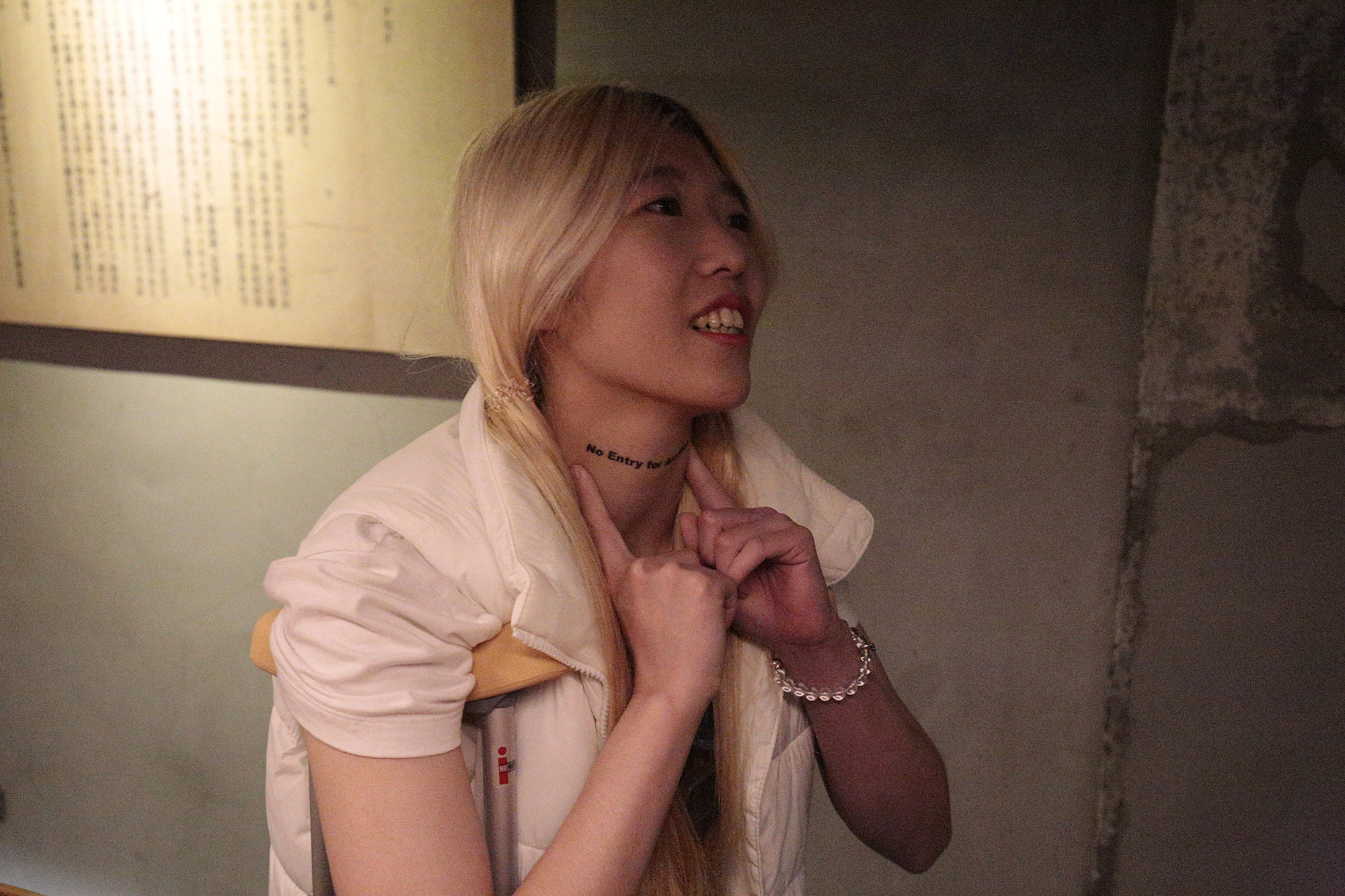 //Tattoo Sticker Series//
From time to time, I applied tattoo stickers on the throat, and performed in accordance with the restrictions. Thanks for other artists, they have always wanted to help me peel out the "No" on the stickers so that I can talk and drink, but I really care if I have completed the plan. Especially CinCin, she help me with several calls (she said while I typing out my thoughts).
During November, I started to execute my original creative plan: transparent candles combined with laser-engraved text and make books. The work was done, but it failed. During the production process, I discussed the creative content with Ting-Ting several times. She said that residency was never for the relocation, but for the artist's creation. I realized that binding the plan to the library space was my wishful thinking. I decided not to deliberately restrict my creative context, also put myself in the environment and the crowd more at ease.
So I opened up and stretched freely on the third floor. I stuck the purchased manuscript paper on both sides of the wall near the table as a net. I found Chen Ying and played table tennis. I felt like I found a writer salon just in Paris at midnight. I freely played with cognitive vocabulary in the space, even better, there are partners who are willing to go crazy with me.
I have never had such a high level of creative energy. I fully entered Cyber ​​World, letting myself go, using FB messenger, Windows, Microsoft, Blender, Instagram to interpret and question phenomena and systems. I am too sensitive to the environment and people to enter Nirvana-like creative state because I have a deep sense of belonging to the people here. There are cooperation and each one has their own way, but this is the most precious part: we value each others' importance while maintaining freedom and autonomy.
This was written to salut Ken Miles.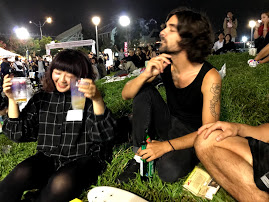 Works of Residency
1. Co-Shower Project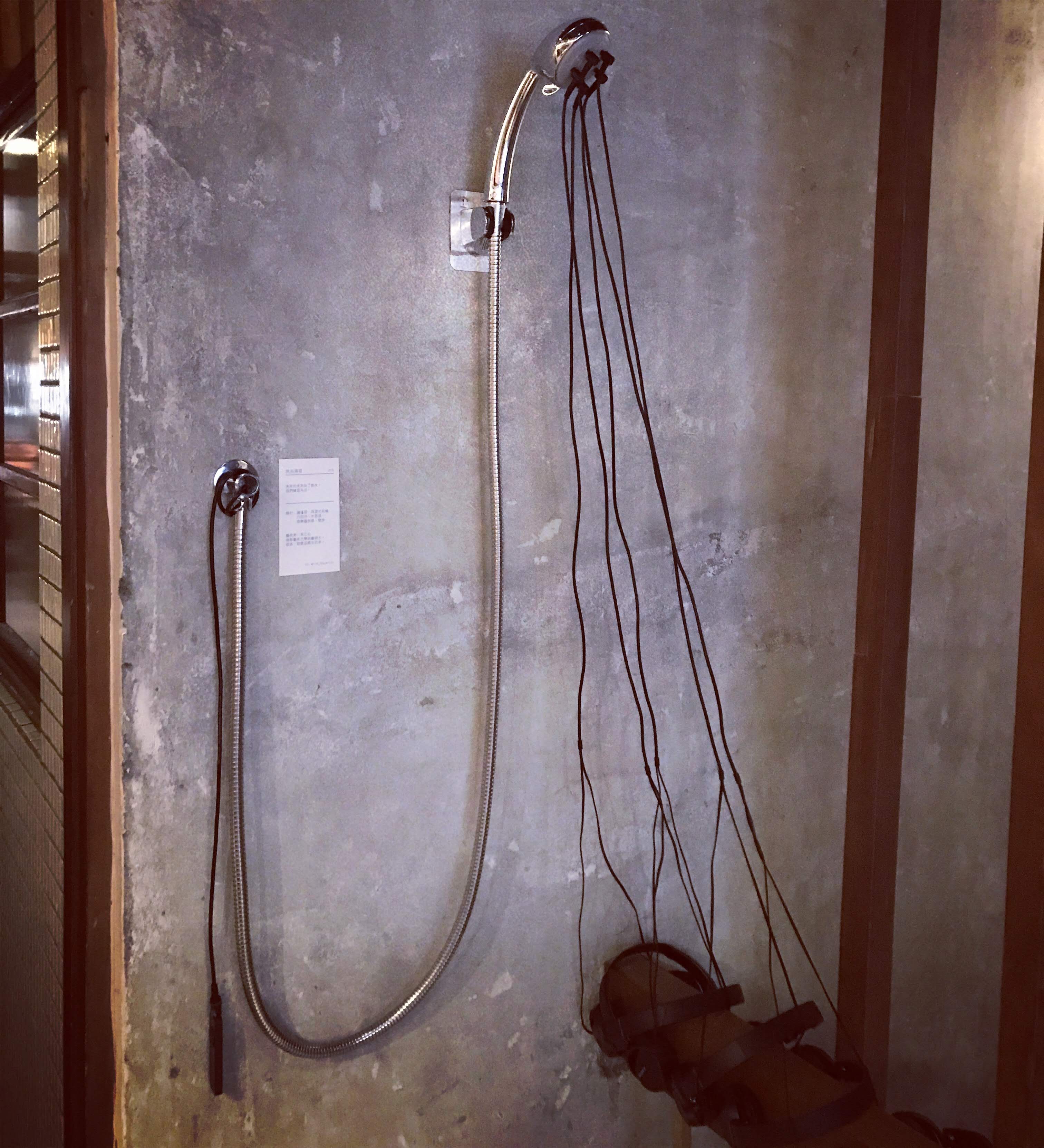 2. The Bliss
https://www.whitechu.com/thebliss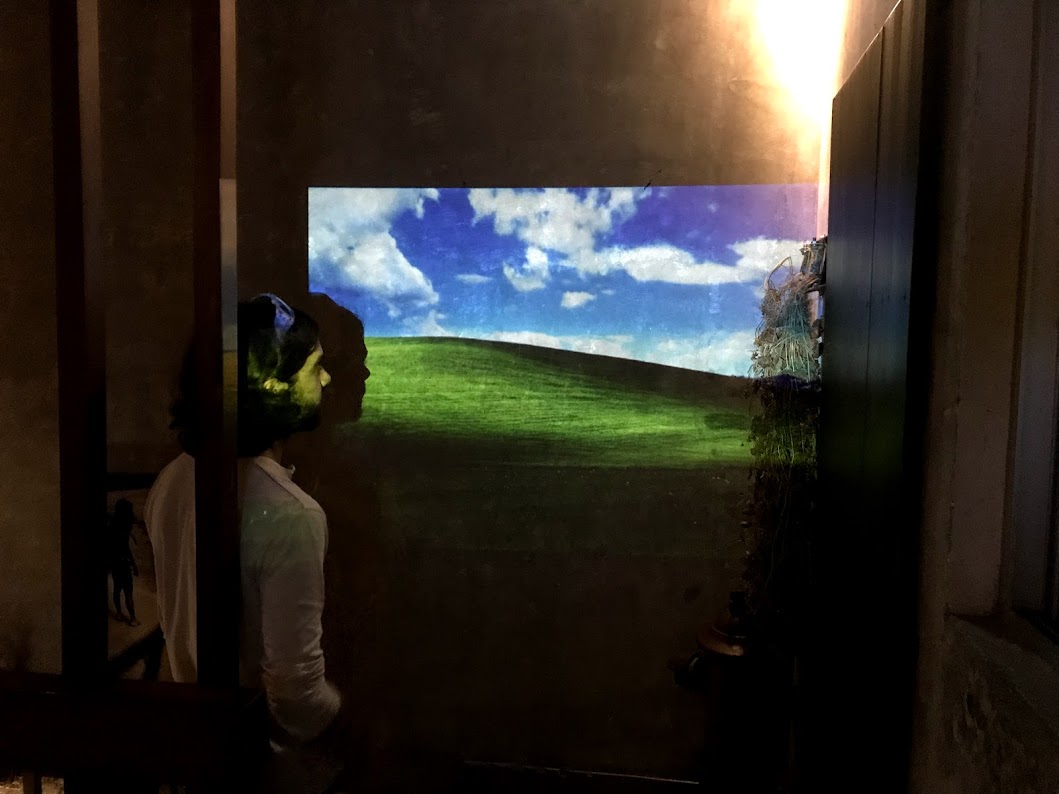 3. Book Candle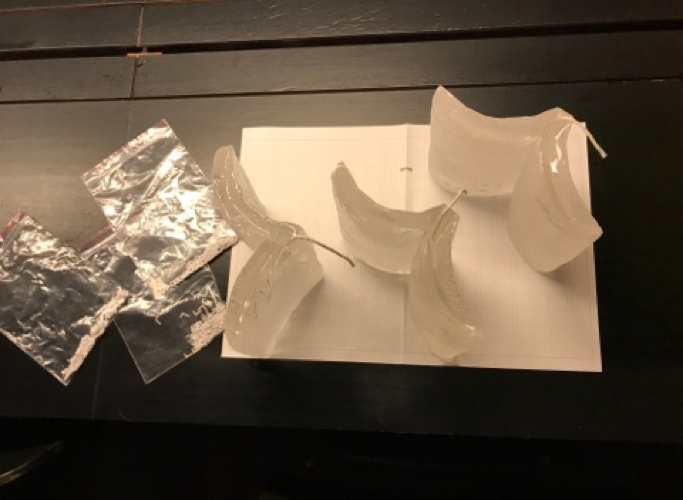 4. When No is removable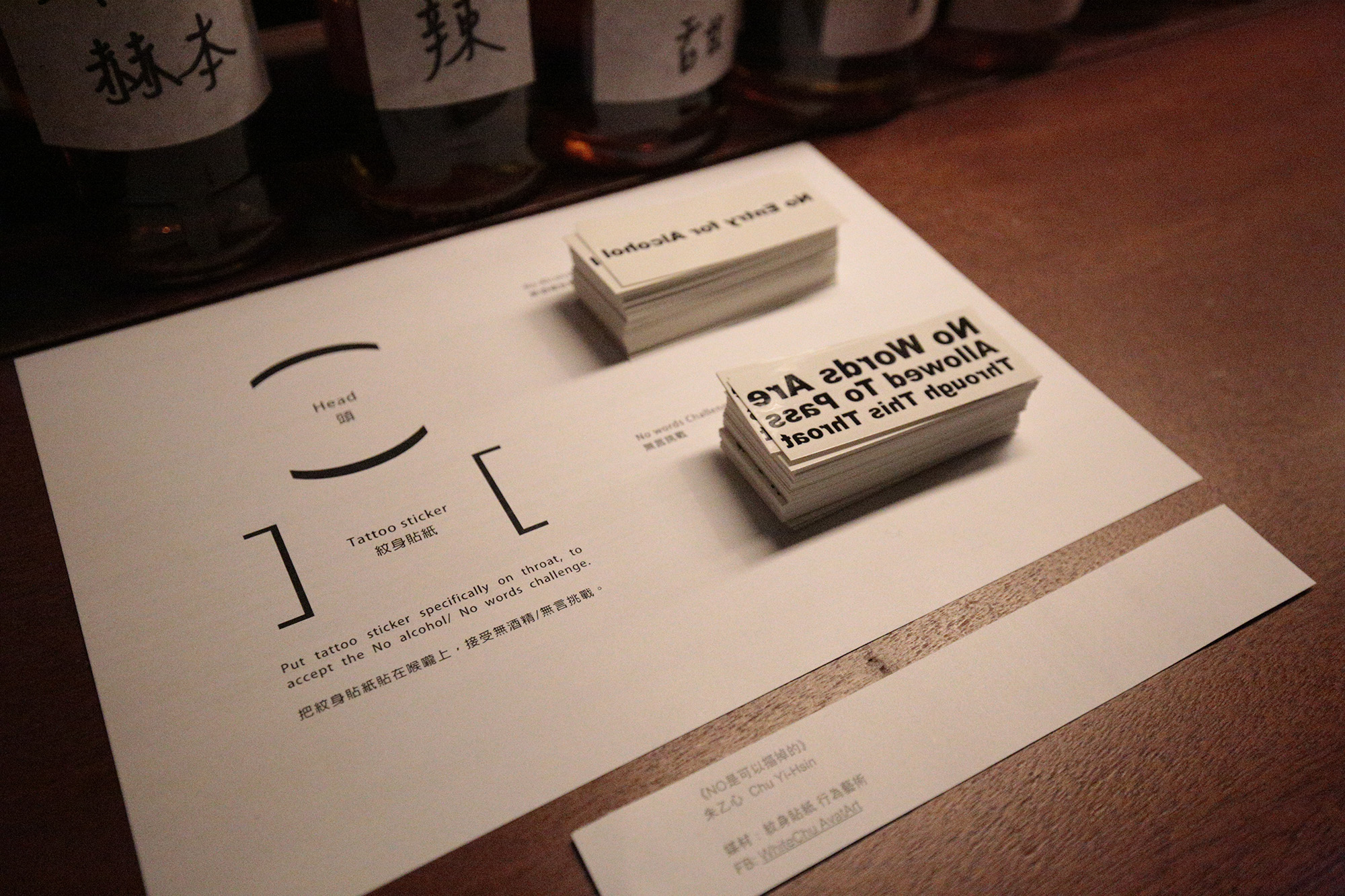 5. How to make No.2 white from No.1
https://www.whitechu.com/howtomakeno2whitefromno1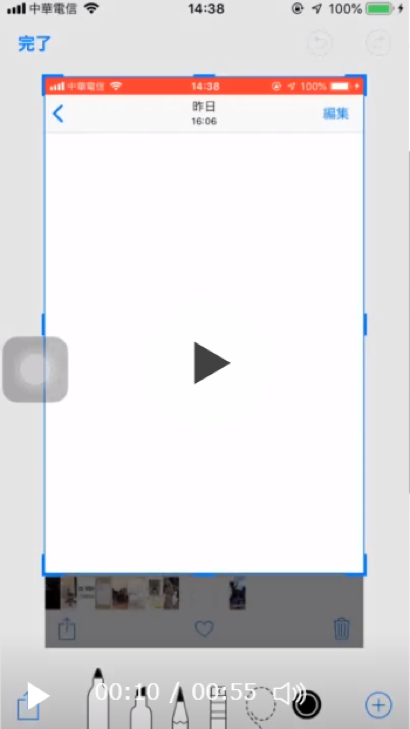 6. Trivials
https://www.whitechu.com/trivial